We're Getting Mutants in the MCU - The Loop
Play Sound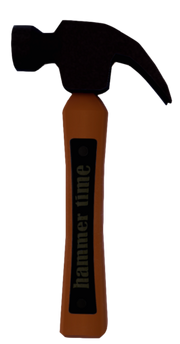 The Hammer was a key item that appeared in Pre-Alpha and Alpha 1 of Hello Neighbor.
Gameplay
The hammer was used to take the board off of the Basement door in both versions it appeared in, as well as remove boards from windows. It had the same purpose as the crowbar. In the Pre-Alpha, the hammer appeared in either the boiler room or the garage.
In Alpha 1, it appeared in the garage or in a drawer in the neighbor's bedroom. You could fine the hammer in either place in Alpha 1.
In Alpha 2, the hammer only appeared during the cutscenes where the Neighbor boarded up the room containing the keycard and the basement door, and wasn't a usable item. The hammer could be found underneath the map using ghost mode. It could be found in the files as well.
In Alpha 3, despite it never being seen inside the game, reappeared in the files. (Video link: https://www.youtube.com/watch?v=rAYYpA1cTIs at the 4:10 mark.)
It also reappeared in Alpha 4 being seen in the closet dream sequence (redesigned in the new art style) as you make your way to the top.
Its functionality was entirely replaced by the crowbar from the Alpha 2 version onwards. The crowbar replaced the hammer. However, it reappeared in the Modkit and can still be used for mods and wasn't entirely killed off.
Trivia
The words "hammer time" are etched onto the handle.
The hammer was one of the redesigned items in the Modkit.