We're Getting Mutants in the MCU - The Loop
Play Sound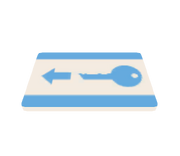 The Keycard is a key item that appears in Hello Neighbor from Alpha 2 onwards. The Keycard has a similar purpose as the key in previous versions. It will open the keycard lock to the Basement.
Keycard Location in Each Build
In Alpha 2, the Keycard can be found in the kid's room with the hole in the roof, on a table below. The room requires either the wrench or crowbar to be used to be accessed. You can use a wrench to open the ladder up and fall down through the hole inside the room, and then break out of the window after obtaining the keycard. You can also go from the Bird Room and use a crowbar on the boarded door.
In Alpha 3, the Keycard can be found on the 2nd floor in a room accessible by dropping through a hole in the floor of the room unlocked by the blue key. After dropping down in the hole, there will be a display case/cabinet with a covered couch, covered chair, a broom, and flashlight beside it. Inside the cabinet is the keycard.
From Alpha 4 onwards, the Keycard is found in the freezer in the kitchen, and must be unfrozen by turning off a generator connected to the refrigerator. From Alpha 4 - Beta 2, the generator was in the train station up the long ladder at the end of the Hallway.
In Beta 3, the generator is instead inside a cage on the front of the house which must be opened by placing certain items on the shelves in a certain way in the nearby bedroom. In Act 3 of the final game, the puzzle is the exact same as the Beta 3 puzzle.
Trivia
The keycard lock that was in the old art style was never used in any version of the game. We only see it in the Alpha 2 trailers.
The keycard is only one of three items that were never affected by the art style change. The neighbor's phone was the second object that wasn't changed into the new art style. And the beartrap was the third object.